My first time going to Rock the Bells in the Northern California but I've actually been to the Shoreline amphitheater before. Forgetting that the parking lot is a giant field that can go on for days. The venue is really nice and the weather up here sure beats Rock the Bells in San Bernardino.
There year there were four stages total: the main stage, 36th Chamber stage, Paid Dues, & Grindtime stage. First one we hit up was the 36th Chamber stage to see Black moon.
The Paid dues stage was literally next to the 36th Chamber stage literally but facing a little towards the left to focus sound in a different direction. Either way you could still hear what was going on on either stage. Big K.R.I.T came on on the Paid Dues stage so I headed there. He's pretty HYPE!
Back to the 36th Chamber stage to check out Mobb Deep.
Then we were off to the Grindtime stage to check out the Grindtime Finals.
Up the hill was the main stage. Check what insanity the lawn looked like.
Waiting for Nas' set to start we were lucky to see Pete Rock and Primo cutting it up.
Then here comes Nas who finish his set shorter than scheduled.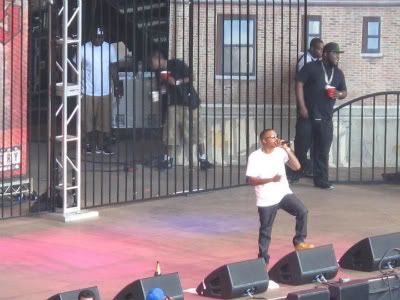 Lauryn Hill's set wasn't for another hour or so, so back to the 36th Chamber stage to catch the rest of the GZA's set.
Followed by Ghostface and Raekwon. But before they came out Supernat came to rock the stage. For those of you who've never seen Supernat the first time is always fun, hype, and pretty amazing. He freestyles and does three little sets. After seeing him so many times and even booking him in the past six years it was kind of sad for us to know what he was going to do and actually more sad that none of it has changed. With three Emcees where he freestyles gives clues to an emcess he'll rhyme like turn around and spit a verse sounding just like that Emcee. Slick Rick, Busta Rhymes, and Biggie Smalls. C'mon dude... mix it up a bit.
Also he does a freestyle about items that people pull out in the crowd. He's been doing this for a while and people know he does this that the very first time I seen him someone brought a cereal box and cruches.
Then it was up with Ghostface and Raekwon.
Supernat came back to freestyle the set list.
Ending the night by swinging by to check out Lauryn Hill for a song.
Rock the Bells Norcal you got a nice venue and beautiful weather but Socal show goes are way more hype and more excited for the music. I think people up here see Rock the Bells and treat it like a hippie fest more than going for the music.