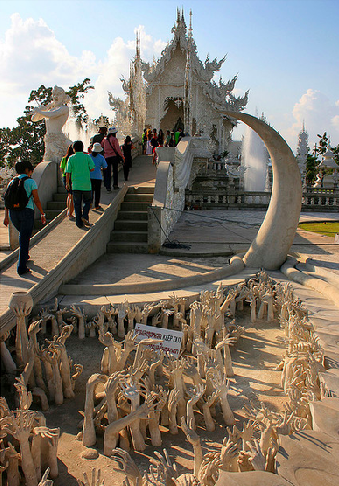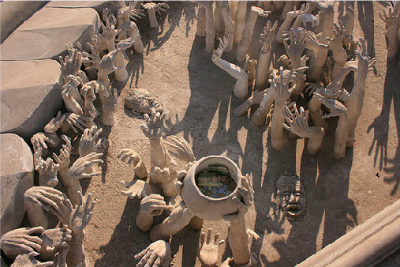 The Wat Rong Khun buddhist temple in Chiang Rai, Thailand, is amazing by design. Inside this amazing temple are Gods and super heroes.
[Designed in white with some use of mirrors, the color symbolizes Lord Buddha's purity, and the mirror stands for Lord Buddha's wisdom that "shines brightly all over the Earth and the Universe." The bridge leading to the temple represents the crossing over from the cycle of rebirth to the Abode Of Buddha. The small semicircle before the bridge represents the human world. The big circle with fangs is the mouth of Rahu is a representation of hell or suffering and the impurities of the human mind (similar to the Christian concept of original sin). All of the paintings inside the ubosot (assembly hall) have golden tones. The four walls, ceiling and floor contain paintings showing an escape from the defilements of temptation to reach a celestial "all seeing" state...
Undoubtedly the most bizarre element of the design is the presence of contemporary images throughout the interior. Images of the Predator from the Schwarzenegger film franchise, Spiderman, Batman, Superman, Avatar, Keanu Reeves' character in the Matrix, rocket ships, and others line the walls. via FEELguide]
But inside you can find Neo, Ultraman, superman, predator along side the paintings of temples and gods.